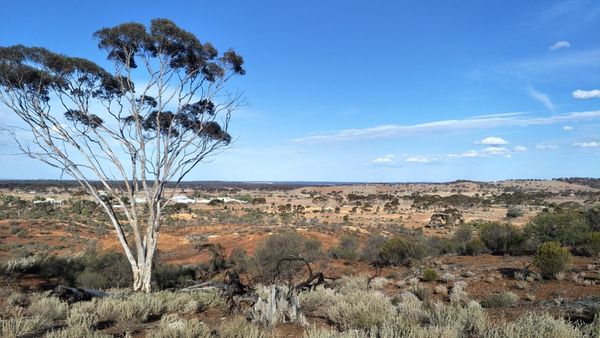 Looking out from Coolgardie. 
Twisting and turning up the Coolgardie-Esperance highway through Salmon Gums, prosperous farmland, and old mining towns, the car brims with anticipation. At a brief roadhouse stop in Norseman we're greeted by the smell of sheep from a nearby road train. Approaching Coolgardie, the setting sun causes the trees to silhouette the road and there's a lull in conversation. The first thing you notice are the wide camel train roads, and the massive boarded up colonial buildings. There are a few familiar hints of life: a pub, a post office, a Caltex, and a caravan park. But for the most part, it's a ghost town. No rush and minimal distractions make Coolgardie a strangely inspiring place to record music. 
When I moved from Melbourne to Esperance, almost two years ago now, my biggest concern was if there would be anyone to play music with. After living in a city, where everyone knew a musician and live music could be heard every night of the week, I held small expectations about what a regional town could offer. Little did I know, tucked away in this coastal cul-de-sac was a healthy music scene, grown organically with just the right amount of drive and dedication (thanks Kyza). It wasn't two weeks before I found myself at a barbecue talking music with one of the founding members of Car Park Social. I mentioned that I'd played in a few bands back in Melbourne, and a few days later I was asked to have a jam with Dan and Paul. 
Add in drummer, Jon, three rehearsals, a soundcheck, and an awkward moment where I didn't know the band name, and we were thrown on stage to a sold-out crowd at the Cannery Arts Centre in support of Eugene 'Hideaway' Bridges. I left that show feeling bemused. There were shows I played in Melbourne—a city with a population of five million—where you didn't need two hands to count the amount of people in the crowd. Now I was in a town with a population of ten thousand and there were people that couldn't even get a ticket. Expectations. 
2020 has been a year of bizarre opportunity for the band. Babies, surfing injuries, and pandemics, put rehearsals on hold for a large chunk of the year. Even so, full moons aligned. Grant applications were made and recording plans were hatched. Schedules lined up. This gave rise to the opportunity for us to record a four-track EP over four days at Coolgardie's Historic Railway Station with the guys behind Barefoot Bands: Drew Goddard and Brenton Meynell. A terrific initiative, Barefoot Bands provides opportunities to artists living in remote parts of Australia to record music. 
For me, recording in a train station was the stuff of legends. Some of my favourite albums were recorded in rooms far from the traditional studio. The Stones' Exile on Main St in the basement of Keith Richards' French mansion, and several tracks on the classic Neil Young album Harvest were recorded in his barn. It's fair to say the lead up felt like Christmas to a kid. The eve drags on longer than the whole week beforehand.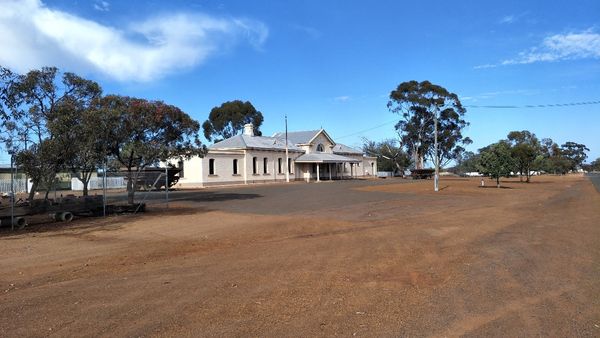 Historic Coolgardie Railway Station. 
T he station itself sits just off the main drag. Opposite a row of residential homes, it sticks out between a junkyard, and a rest stop for caravans passing through on their way to Perth or beyond. It's a wide white building, running parallel to the street and attached to a sheltered platform. Still sitting on the track is an old steam train, boarded up to prevent vandalism. Inside the old station building are several high-ceilinged rooms with fireplaces. One appears to be a lobby, presumably where people were able to purchase tickets, with the remainder acting as offices. 
The studio uses one room as a control room, one for drums, and another for amplifiers with a makeshift vocal booth in the corner. Sound bleed is prevented by blocking entranceways with blow up mattresses and shutting the heavy 19th century wooden doors. There's a small kitchen setup and a room with swags for afternoon kips, and the option to sleep if the session presses on into the night. The studio offers a unique blend of outback industrialism, grassroots DIY, and Drew and Brenton's patient professionalism.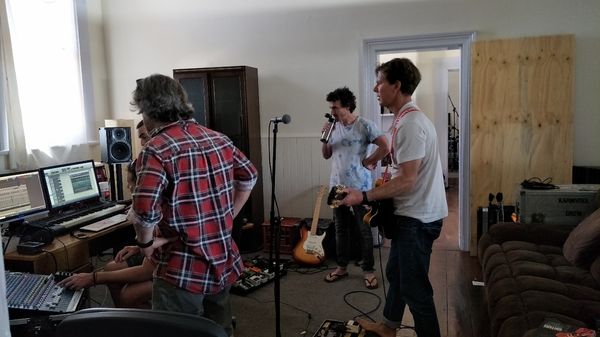 In the control room: Brenton, Drew, Chris, Paul and Dan. 
After loading in, we have a chat to Drew and Brenton, and also meet WAM board member Chris Edmondson, who's in town for a gig and is another experienced muso helping us out. Video artist, Jamie Sher, has also joined for the session to document the process and shoot a film clip. Following dinner, we mill about next to a wiry Hills Hoist in a dusty backyard. A sprinkler is switched on and sits beneath the chatter and laughter. Music is the constant. Gigs, grants, business, people, plans, ideas, hopes, dreams, experience, reality, and chaos. All while keeping one eye out for double gees. 
The plan is to track one song a day and each day follows a similar, yet loose, structure. We start with a guide track, before recording drums and bass, then guitars, and finally finish up with vocals. Each session starts around 10am and often doesn't finish until 12 or so hours later. They are long days, but there is a constant calm around the studio. The weather remains cloudless and warm, and with not much else going on, it's difficult not to fall into a meditative state around the station. Between takes, tea and coffee get made, and a camper trailer acts as a tuck shop serving salad sandwiches and wraps. In the evening a barbecue is fired up. 
First beers get cracked in the glare of the mid-afternoon sun, while layers of scorching guitar licks resonate out across the town. The sound occasionally attracts the attention of a friendly local or curious tourist. We welcome them in and give them a bit of a tour, happy to have a chat with anyone that happens to be there. Spoken word poets, families, Shire staff, journalists, miniature train model enthusiasts, professional basketballers, all drop by during the four-day session. Youth worker and videographer, Travis Klymiuk-McIlroy, stays for the duration offering his services to assist Jamie with the film clip. Full of ideas the two work tirelessly throughout the recording: scouting locations, setting up lights, organising photo shoots, and filming. Their creativity infectious.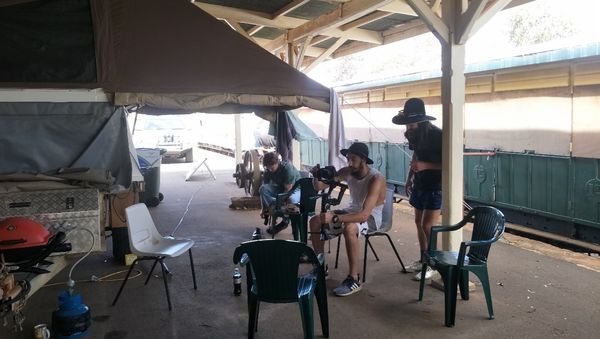 By the 'tuck shop': Dan, Travis and Jamie
. 
Coolgardie highlighted the importance of people and place. Waiting takes up most of your time when recording, yet no one was in a rush to be anywhere else. There was also time for genuine conversation between a group of creatives working on a common project. In a year that has been difficult for the Arts industry, creativity is more valuable than ever. While a blank canvas often feels like an ideal to strive for, it is often external challenges and restrictions that cause creativity to thrive in new and unexpected ways. Coolgardie brought together a group of productive people, all with multiple projects on the go, and it makes you wonder whether this experience could have existed in any year pre-2020. 
With tracking complete we pack up and set out for the drive back to Esperance. Christmas has come and gone, and all of a sudden, it's almost a new year. Christmas Eve a distant memory. During the drive you can glimpse the still functioning railway line that runs next to the highway. Hardly worth a look on the drive up, it takes on new meaning. Since the 1960s it has operated from neighbouring town Kalgoorlie, rather than Coolgardie, down to the Esperance Port. Heading home we listen satisfied to what we've achieved in the previous four days. We only have rough mixes to go on, but there's a sense of excitement for what will become of them after mixing and mastering. The sun sets and we discuss what's on (what we hope to be) a roo-less horizon. Festival appearances, and launch shows, to look forward to, it seems car parks are being traded for train stations and the Car Park Social express is more than ready to depart.